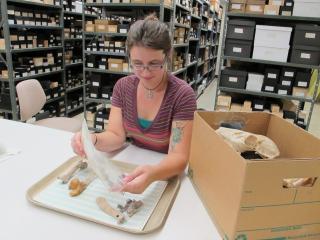 The Zooarchaeology Laboratory specializes in the analysis of vertebrate remains from archaeological sites, but also works with invertebrate, paleontological, and ecological samples. The comparative collection numbers over 5,000 vertebrate and invertebrate specimens with an emphasis on animals from the southeastern United States, adjacent waters, and the Caribbean. Established in 1977 through a Heritage Preservation Grant from the Georgia Department of Natural Resources (GDNR) to support archaeological research, service, and training, over 280 archaeological faunal assemblages from the southeastern United States, Caribbean, Peru, and Ecuador have been studied since its foundation. The Zooarchaeology Laboratory provides technical service to approximately 50 clients each year.
Both pre- and post-Columbian materials are studied with most analysis focused on human/environmental interactions in coastal settings. Lab members are particularly active in studies of strategies used by Spanish, English, and Native American populations and the impacts of those strategies on estuarine resources. This research examines such questions as differences in rural/urban subsistence strategies, Native American contributions to European subsistence strategies, and the use of terrestrial or marine resources. Anthropology and biology are combined in studies of allometric relationships, incremental growth in deer, fishes, and mollusks, isotopic analysis of mollusc valves and otoliths, feeding behavior of a number of rodent and carnivore species, and change in deer size through time currently being conducted using the comparative collection. Over 680 theses, scholarly papers, journal articles, book chapters, other publications, and reports have been authored by laboratory students, staff, and faculty.
Students are active members of the lab with financial support through contracts with archaeologists from national and international institutions.