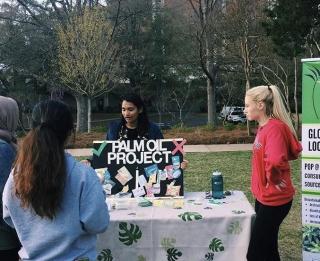 The Palm Oil Project, or POP@UGA, is a student-run organization that was established in Fall 2019. The goals of the organization are to raise student awareness of the negative environmental and social impacts of the global palm oil industry and to encourage students to make more sustainable choices when shopping for food and household products.
The Palm Oil Project got its start in Spring 2019 when Ph.D. student in Integrative Conservation and Anthropology Kristen Morrow received a campus sustainability grant from the University of Georgia Office of Sustainability. Morrow, along with undergraduate students Anna Brachey, Manya Kothapalli, Hannah Pike, and Sarah Riggs, worked throughout the semester to raise awareness on campus of the problems caused by palm oil production. They collaborated with campus UGA Dining Services and Vending to identify products that contain palm oil, administered a campus-wide survey to assess student awareness of palm oil sustainability, and participated in outreach events such as the annual South by South Milledge festival held at the UGArden.
Now, the Palm Oil Project is registered as an official student organization and its membership is growing. The goal of the organization is not to boycott palm oil, as to do so is unrealistic. Rather, they encourage sustainable consumption and products that use RSPO certified sustainable palm oil. POP@UGA hosts open discussion meetings on students' concerns regarding both palm oil sustainability and general sustainability, and also encourages discussions on ways in which students themselves practice sustainability in their everyday lives. At their last meeting, they even provided members with palm oil-free donuts and nutella!
The Palm Oil Project works to keep students aware of palm oil sustainability issues by regularly posting to its social media accounts. They share product spotlights for products that are palm oil-free or certified sustainable, updates on palm oil sustainability news, ways to identify palm oil ingredients and more. Follow Palm Oil Project on Instagram and Twitter @pop_uga to stay updated.
Interested in joining POP@UGA? Contact Manya Kothapalli at

manya.kothapalli@uga.edu

for more information!