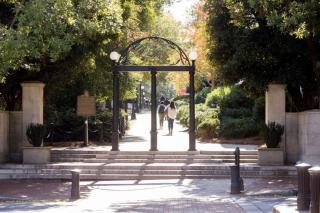 Congratulations to the Class of 2021! We wish all of our Fall 2021 graduates success in their future endeavors!
This fall, we have six graduate students earning their PhD's. Congratulations to Russell Cutts, Walker Depuy, Jonathan Hallemeier, Sammantha Holder, Aaron Lenihan, and Jacob Weger!
Russell Cutts, Doctor of Philosophy, Anthropology
Dissertation: Campfire or Wildfire? Advancing Techniques Determining Anthropogenic Fire in the Archaeological Record.
Walker Depuy, Doctor of Philosophy, Integrative Conservation
Dissertation: Rights-Based Conservation, REDD+, and Relationality in East Kalimantan, Indonesia
Jonathan Hallemeier, Doctor of Philosophy, Integrative Conservation
Dissertation: Conflict, Uncertainty, and Collaboration in Multiple Use Land Management Planning for a Southern Appalachian National Forest
Sammantha Holder, Doctor of Philosophy, Anthropology
Dissertation: Investigating the Differential Impact of European Imperialism on 19th century 

French and Russian Soldier Bodies
Aaron Lenihan, Doctor of Philosophy, Anthropology
Dissertation:  How does evolved psychology shape legal behavior? Evidence from a cognitive experiment and an ethnographic case study
Jacob Weger, Doctor of Philosophy, Anthropology
Dissertation: Deltas in Motion: Politics of Translation and the Governance of Climate Change Adaptation in the Mekong Delta, Vietnam