Colonial and Native Worlds Field School, Ossabaw Island, Georgia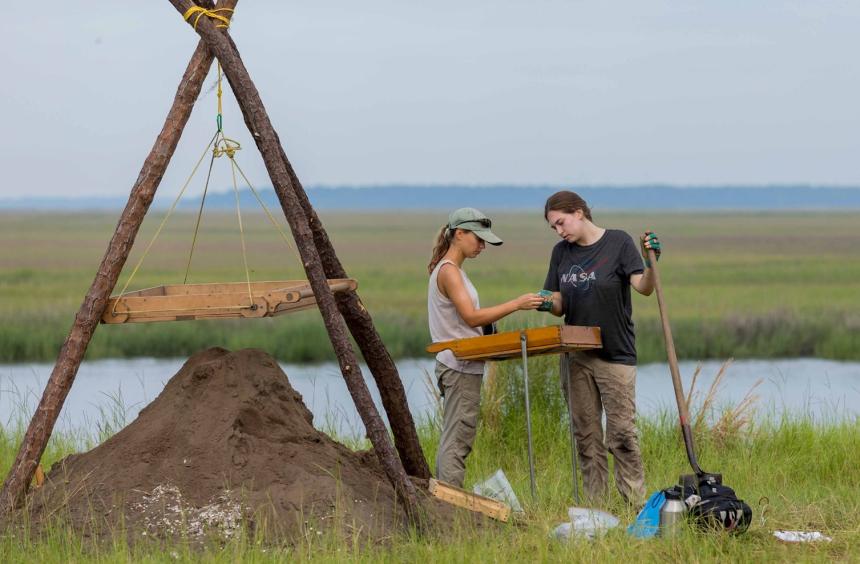 Come explore the ancient and colonial history of the Georgia Coast and live on Ossabaw Islands this summer. Located just south of Savannah, Georgia, Ossabaw Island is one of the main barrier islands that front the Atlantic Ocean. There are no bridges to the islands; access is only by private boat (UGA) as the island is separated from the mainland by about five miles of sounds, salt marsh, tidal rivers and creeks. The Colonial and Native Worlds Field School consists of archaeology field and lab method courses that are designed to teach students the field techniques of archaeological excavation and laboratory skills concurrently. This year we will be exploring archaeological sites on Ossabaw Island that were inhabited by Native American peoples up until the time of European colonization. You will learn archaeological excavation, remote sensing, go on field trips around the island, and live by the beach. The first four weeks of the field school will take place on Ossabaw Island, and the last week will be back at UGA's Laboratory of Archaeology in Athens, GA.
Lodging and Meals: All meals and housing are provided for in the costs of the program. Students will stay in the Ossabaw Island Club House, a beautiful late 19th century hunting lodge under the operation of the Ossabaw Island Foundation.
Field School Goals: Through participation in an archaeological research project, students will be introduced to the methods of archaeological survey, excavation, data and materials recovery, recording, and processing. Students will be involved in all phases of field excavation, including archaeology survey, test unit excavations, and large-scale data recovery. Students will also be trained in basic laboratory processing and analysis, and will work collaboratively to present the results of their research in a professional presentation.
Credits: Students in this field school will enroll in both ANTH 4200 Field Methods in Archaeology (6 credit hours) and ANTH 4240 Laboratory Methods in Archaeology (6 credit hours), for a total of 12 credit hours. Both of these courses introduce archaeological field and lab techniques and the methods and approaches by which archaeology and heritage are interpreted. These courses fulfill one or more UGA general education core curriculum requirements, university-wide requirements, Franklin College requirements, and/or Department of Anthropology major requirements.