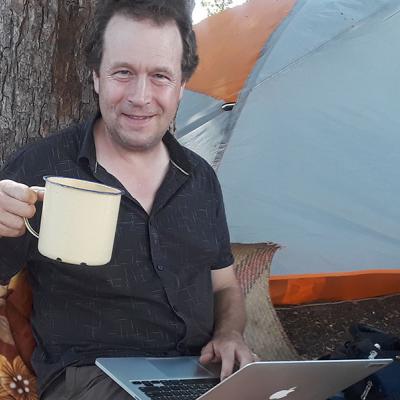 Associate Professor
Lab: Behavioral Ecology and Economic Decisions Laboratory
Contact Info
Office Hours:
Fall 2018: Tue, Thu 11:00am - 12:15pm
Interests:
Anthropology + ecology, economy, evolution, environment

Human ecology, economic anthropology, human behavioral ecology

-

Cognitive level:  Risk, time, value, covariation, causality, culture

-

Household level:  Livelihoods, foraging, agriculture, markets, non-market exchange, poverty, inequality

Cognitive anthropology of risk and misfortune: ecological and cosmological cultural causal models

Quantitative & qualitative ethnography, behavioral observation, experimental methods

Madagascar, Africa
Of note:
President, Society for Economic Anthropology
Graduate School Outstanding Mentoring Award, Behavioral and Social Sciences, 2010. University of Georgia
Education

Education:

Ph.D. Anthropology, University of North Carolina 2001
Research

Research Interests:

How do rural people make ends meet under conditions of high economic risk and continuous social change?  I have explored this general question for over 20 years in rural southwestern Madagascar, by studying the livelihoods and economic decisions of Mikea hunter-gatherers, Masikoro farmers, and Vezo fishers.




One of my long-term Mikea friends and informants.  Photo by Soanahary Gérard, 2018.

SW Madagascar is a semi-arid environment with some of the most unpredictable rainfall in the world.  Like much of the Global South, it has experienced rapid changes during the past few centuries due to colonialism, globalization, and international development. 




A snapshot of some of the diverse environments of SW Madagascar: Savanna, dry deciduous forest, lakebeds and thorn forest, and coast.  Photos by B. Tucker.

My dissertation research (Tucker 2001) explored the ways by which Mikea protect themselves from potential shortfalls in food supply, and how they cope with food insufficiency once it occurs.  I learned that although Mikea define themselves as hunters and gatherers, they have always practiced a diversified economy that involves some agriculture, herding, trading, and wage labor.  For Mikea, "hunter-gatherer" is symbolic of their ancestors' resistance to the precolonial Andrevola kings, and later, French colonization (Tucker 2003).

(By the way, Mikea, like other hunter-gatherers, are commonly cast as some sort of primitive leftovers from times long past.  THIS IS FALSE.  Mikea are modern Malagasy people.  Their recent ancestors were Masikoro farmers or Vezo fishermen who fled into the forest and became foragers during the past 400 years to escape the abuses of kings, pirates, bandits, and colonizers).




Mikea are hunter-gatherers, but they are not primitive people.  Many Mikea have sipped Coca-Cola and watched TV or videos at some point in their life.  Some Mikea have mobile phones.  Mikea individuals served in WWI. Mikea musicians have performed in the national capital, Antananarivo.  Photo (referencing the film, The Gods Must be Crazy) by B. Tucker, 2006.

In my post-dissertation work I have increasingly sought to understand the mental and cognitive component of economic choices, including such choices as what crops to plant, what prey to pursue, or what markets to exploit (Tucker 2005, 2012, 2017). 




Common wild prey and crops in southwestern Madagascar.  A. Wild ovy tubers (Dioscorea acuminata); B. tenrec, also called "African hedgehogs" (Echinops telfairi); C. wild honey (Apis mellifera); D. the invasive snakehead fish (Channa striata); E. maize (Zea mays, photo by P. Hajasoa); F. manioc (Manihot esculenta); G. rice (Oryza sativa); H. vohem beans (Phaseolus sp.); I. a finfish called ambitse; J. octopus (Octopus cyanea, photo by E. Lill); K. mud crab (Scylla serrata); L. green sea turtle (Chelonia mydas, photo by V. R. Lahitoka).  Other photos by B. Tucker.

I spent an awfully long time trying to perfect choice experiments for evaluating how people mentally evaluate probability and delay-to-reward.  These experiments took the form of a choice among options offering different reward quantities and probabilities of obtaining them (in the risk experiments) or waiting time to obtain them (in the time experiments).  This is important because agriculture differs from foraging and fishing by risk and time as well as quality and quantity of production.  Agriculture provides a high quantity of low-quality food, at high risk and a long delay to harvest; foraging and fishing provide low quantities of high-quality foods, at low risk and on a daily basis (Tucker et al. 2010). 




Colleague Patricia Hajasoa conducting a risk choice experiment in which dominoes were used as an illustration of probability.  The research participant is a Masikoro woman.  Photo by B. Tucker 2007.

Recently, I have published an excessively long review of all of my risk and time choice experiments (Tucker 2017), in which I conclude that these experimental economic methods taught me very little.  This is because these experiments, and many done by experimental economists, are presented as meaning-neutral quantitative relationships rather than as culturally meaningful causal stories.

Currently, I am conducting a large-scale investigation of how "culture" influences economic choices and strategies among Mikea, Masikoro, and Vezo, funded by the National Science Foundation (BCS 1733917).  It is exciting to see many published studies these days relating culture to decision-making, in psychology, economics, evolutionary biology, and anthropology, and yet I have been frustrated by the apparent simplicity of researchers' notions of culture, often as a binary variable (eastern/western, loose/tight), or as unexplained error differentiating populations.  My research seeks to study cultural content and meaning (inspired by cognitive anthropology).




A young Mikea man (first photo) and a young Masikoro man (second photo) pose for the camera as archetypes for their ethnic group: the Mikea man carries a spear and bundles of wild tubers, while the Masikoro man carries a rifle and magical talismans (on his belt) as he poses with cattle.  Meanwhile, two Vezo women, not posing, gather octopus and sea cucumbers during low tide of spring tide.  Photos by E. Ranz 2004, B. Tucker 2018, and E. Lill 2011.

The project focuses on two cultural institutions that seem to have remained relatively unchanged for centuries, despite the risky natural and human environment.  These institutions are ancestor/spirit veneration, and the identity scheme, which seems to equate identity with ancestry (clan history) and livelihood (Mikea foragers, Masikoro farmers, Vezo fishers).




Three ways to communicate with ancestors and other spirits: by slaughtering livestock in family ceremonies, through spirit possession, and through seed divination before a talisman.  Photos by C. Zahatsy 2007, E. Lill 2011, and B. Tucker 2014.

The project considers culture in three forms: (1) as norms, rules for normal behavior; (2) as shared models for cause-and-effect relationships, hinting at shared concepts for reality; and (3) as ethnobiological categories, names for plants and animals.

The project will test a series of hypotheses as to whether the institutions of ancestor/spirit veneration and identity provide adaptive benefits in an unpredictable socioeconomic environment.  Culture could be adaptive because (1) it prescribes or prohibits certain activities (ex. high-risk activities could be taboo); (2) it "marks" individuals as belonging to a group with shared norms or goals (ex. team colors); (3) it provides rules for resolving social conflicts (ex. sorcery accusations may publicize private disputes); (4) it provides rules for managing common property resources (ex. ancestors may disapprove of unsustainable harvests), or (5) it provides psychologically palliative narratives for personal successes or failures (ex. identity as a Mikea "forager" could make one feel better about one's farming failures).  Testing these hypotheses will permit a greater understanding of when cultural adaptation involves cooperation versus competition, among individuals versus groups.

In Madagascar I have always worked in collaboration with an amazing team of scholars at the Université de Toliara, especially, Dr. Tsiazonera, Dr. Jaovola Tombo, Patricia Hajasoa, and Soanahary Gerard. Thanks also to Gervais "Veve" Tantely, Théo Ramanovontsoa, and Alhayess Jean-Claude.




The field team plus friends, minus Jaovola Tombo.  Photo by Angelah Garcon, 2018.

What you have just read is one possible narrative for my research trajectory.  But I have other interests as well.  Although I am basically a cultural anthropologist, I do some evolutionary anthropology and archaeology, and have published in these sub-fields.  Other topics that I have contributed to include the notion of "poverty," food insecurity, inequality, applied applications of evolutionary-behavioral research, foraging theory, SW Madagascar oral history and prehistory, cosmology and magic, marketplace exchange, the politics of conservation and development, and cooperation and competition.
Selected Publications

Selected Publications:

Tucker, B. and Nelson, D. (2017).  What does economic anthropology have to contribute to studies of risk and resilience?  Economic Anthropology 4(2): 161-172.

Tucker, B. (2017).  From risk and time preferences to cultural models of causality: On the challenges and possibilities of field experiments, with examples from rural southwestern Madagascar.  Nebraska Symposium on Motivation 64: 61-114.

Tucker, B., Tsiazonera, Tombo, J., Hajasoa, P., & Nagnisaha, C. (2015).  Ecological and cosmological coexistence thinking in a hypervariable environment:  Causal models of economic success and failure among farmers, foragers, and fishermen of southwestern Madagascar.  Frontiers in Psychology, Cognitive Science 6:1-16.

Tucker, B., Lill, E., Tsiazonera, Tombo, J., Lahiniriko, R., Rasoanomenjanahary, L., Razafindravelo, P., & Tsikengo, J.-R.  (2015). Inequalities beyond the Gini: Subsistence, social structure, gender, and markets in southwestern Madagascar.  Economic Anthropology 2: 326-342.

Tucker, B.  (2014).  Rationality and the Green Revolution.  In Gibson, M. &  Lawson, D. Applied Evolutionary Anthropology: Darwinian Approaches to Contemporary World Issues (pp. 15-38).  New York: Springer.

Tucker, B., Tombo, J., Tsiazonera, Hajasoa, P., Nagnisaha, C., Lahitoka, V. R., Zahatsy, C (2013).  Beyond mean and variance: Economic risk versus perceived risk of farming, foraging, and fishing activities in southwestern Madagascar.  Human Ecology 41(3): 393-407.

Tucker, B. (2012). Do risk and time experimental choices represent individual strategies for coping with poverty or conformity to social norms? Evidence from rural southwestern Madagascar. Current Anthropology 53:149-180.

Tucker, B., Huff, A., Tsiazonera, Tombo, J., Hajasoa, P., & Nagnisaha, C. (2011). When the wealthy are poor: Poverty explanations and local perspectives in southwestern Madagascar. American Anthropologist 113(2):291-305.

Tucker, B., Tsimitamby, Humber, F., Benbow, S. & Iida, T. (2010). Foraging for development: A comparison of food insecurity, production, and risk among farmers, forest foragers, and marine foragers in southwestern Madagascar. Human Organization 69(4):375-386.

Tucker, B. (2007). Perception of interannual covariation and diversification strategies for risk reduction among Mikea of Madagascar: Individual and social learning.  Human Nature 18(2): 162-180.

Tucker, B; (2007). Applying behavioral ecology and behavioral economics to conservation and development planning: Example from the Mikea Forest, Madagascar.  Human Nature 18(3): 190-208.

Tucker, B; & Rende Taylor, L. (2007).  The human behavioral ecology of contemporary world issues: Applications to public policy and international development.  Human Nature 18(3): 181-189.

Tucker, B. (2006).  A future-discounting explanation for the persistence of a mixed foraging/cultivation strategy among the Mikea of Madagascar. In Kennett, D. & Winterhalder, B. (eds). Behavioral Ecology and the Transition to Agriculture (pp. 22-40). Berkeley: University of California Press.

Kelly, R. L., Poyer, L., & Tucker, B. (2005). An ethnoarchaeological study of mobility, architectural investment, and food sharing among Madagascar's Mikea.  American Anthropologist 107(3):403-416.

Tucker, B. & Young, A. G. (2005). Growing up Mikea: Children's time allocation and tuber foraging in southwestern Madagascar. In B. Hewlett and M. Lamb (eds), Hunter-Gatherer Childhoods (pp. 147-171).  Somerset, NJ: Transaction Publishers.

Tucker, B. (2004).  Giving, scrounging, hiding, and selling: Minimal food transfers among Mikea forager-farmers of Madagascar. Research in Economic Anthropology 23:43-66.

Tucker, B. (2003).  Mikea Origins: Relicts or Refugees?  Michigan Discussions in Anthropology 14:193-215.

Yount, J. W., Tsiazonera, & Tucker, B. (2001).  Constructing Mikea identity: Past and present links to forest and foraging. Ethnohistory 48:257-291.

Winterhalder, B., Lu, F., & Tucker, B. (1999). Risk-sensitive adaptive tactics: Models and evidence from subsistence studies in biology and anthropology. Journal of Archaeological Research 7:301-348.
Courses Regularly Taught: