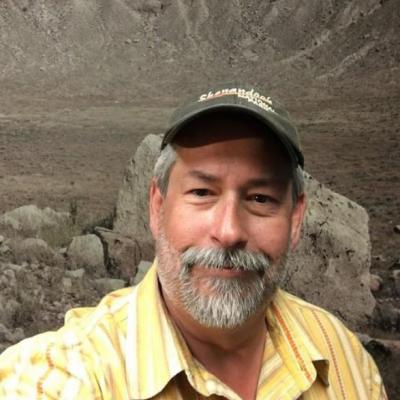 Director - Center for Applied Isotope Studies
Adjunct Professor - Anthropology
Adjunct Professor - Geology
Contact Info
Office Hours:
Tuesday & Thursday by appointment
Dr. Jeff Speakman came to UGA in 2011 and serves as Director of UGA's Center for Applied Isotope Studies. He is responsible for CAIS operations, client services, and quality control, and he ensures CAIS' research integrity and regulatory compliance. With 30 years of archaeological research experience in  North America, South America, and the Russian Far East, he has managed more than 100 projects and authored or co-authored over 200 technical reports. Dr. Speakman has been at the forefront of geochemical-based research of archaeological ceramic, obsidian and alloys in the United States for almost two decades and is an internationally recognized expert in neutron activation analysis, X-ray fluorescence spectrometry, and inductively coupled plasma mass spectrometry (with laser ablation). His research has been funded by the National Science Foundation, European Union, National Park Service, Smithsonian Institution, and various other state and federal agencies. Prior to UGA, he was a physical scientist and department head at the Smithsonian Institution (2006–2011) and a researcher at the University of Missouri Research Reactor (1997–2006).
Dr. Speakman is committed to STEM outreach and education at all levels. He was CoPI of an NSF REU Research Site while at the Smithsonian and has supervised Marie Curie International Career Development Fellows, Fulbright Scholars, and Kress Foundation Fellows. He is actively producing a series of bilingual STEM comics that revolve around archaeological science (see: http://cais.uga.edu/outreach-education/p12/carbon-comics/). His current research  focuses on the academic job market, gender, and inequities in hiring practices in academic anthropology and archaeology (see Speakman et al. 2018a and 2018b).
Dr. Speakman has consulted/collaborated on multiple occasions with FBI, Homeland Security, NPS, Secret Service, Congress, NASA, DOE National Laboratories, Arlington National Cemetery, industry, and multiple private and public museums on issues related to ongoing criminal cases, geochemistry, museum collections, and museum collections management issues.
Dr. Speakman has more than 150 peer-reviewed publications, including monographs, edited volumes, and research papers in scientific journals. He is on the editorial board and/or associate editor for several journals, including Geoarchaeology, is a Registered Professional Archaeologist, and is active in multiple professional associations and societies.
And: Jeff is an avid collector of Manhattan Project and Cold War Era memorabilia.
Of note:
Associate Editor, Geoarchaeology
Associate Editor, Journal of Archaeological Science: Reports
Editorial Board, Science and Technology in Archaeological Research
Co-Organizer, 2019 Radiocarbon and Archaeology Conference
Education:
Ph.D. Archaeology, University of Barcelona
M.A., Anthropology, University of Missouri, Columbia
B.A., Anthropology, Northern Arizona University
A.A., Anthropology, Cochise College
Research

Research Interests:

Radiocarbon dating; isotope and trace-element geochemistry; archaeological science; environmental studies (heavy metals/industrial pollution and global and prehistoric climate change); terminal Pleistocene archaeology; prehistory of the Northern Plains, American Southwest, Alaska, and Northeast Asia; contact and acculturation, scientific method; quantitative research methods; and development of new analytical technologies, especially portable instrumentation.
Selected Publications

Selected Publications:

Jones, T.W., R.J. Speakman, B. Billeck, R.J. Hoard. (2019). A Multi-Regional Obsidian Database for the Eastern Plains. Plains Anthropologist 64:143–1620.

Speakman, R.J., C.S. Hadden, M.H. Colvin, J. Cramb, K.C. Jones, T.W. Jones, I. Lulewicz, K.G. Napora, K.L. Reinberger, B.T. Ritchison, A.R. Edwards, V.D. Thompson (2018). Market Share and Recent Hiring Trends in Anthropology Faculty Positions. PLOS ONE 13(9):e0202528.

Speakman, R.J., C.S. Hadden, M.H. Colvin, J. Cramb, K.C. Jones, T.W. Jones, C.L. Kling, I. Lulewicz, K.G. Napora, K.L. Reinberger, B.T. Ritchison, M.J. Rivera-Araya, A.K. Smith, V.D. Thompson (2018). Choosing a Path to the Ancient World in a Modern Market: The Reality of Faculty Jobs in Archaeology. American Antiquity 83:1–12.

Creel, D., and R.J. Speakman (2018). Mimbres Pottery: New Perspectives on Production and Distribution. In New Perspectives on Mimbres Archaeology: Three Millennia of Human Occupation in the North American Southwest, edited by Barbara Roth, Patricia Gilman, and Roger Anyon, pp. 132–148. University of Arizona Press, Tucson.

Jones, T.W., J. Birch, R.F. Williamson, T.J. Abel, R.J. Speakman, L. Lesage (2018). Steatite Characterization using X-Ray Fluorescence and Insights into Northern Iroquoian Interregional Interaction. Journal of Archaeological Science Reports 20:506–515.

Barrett, C.A., W. Chouyyok, R.J. Speakman, K.B. Olsen, and R.S. Addleman (2017). Rapid Extraction and Assay of Uranium from Environmental Surface Samples. Talanta 173:96–78.

Brink, J.W., C. Barron-Ortiz, K.M. Loftis, and R.J. Speakman (2017). Pleistocene Horse and Possible Human Association in Central Alberta, 12,700 Years Ago. Canadian Journal of Archaeology In Press.

Cooper, H.K, O.K. Mason, V. Mair, J.F. Hoffecker, and R.J. Speakman (2016). Evidence of Eurasian Metal Alloys on the Alaskan Coast in Prehistory. Journal of Archaeological Science 74:176–183.

Williams, V.I., C.M. Santoro, R.J. Speakman, M.D. Glascock, A.L. Romero Guevara, D. Valenzuela, V.G Standen, T.N. D`Altroy (2016). Instrumental Neutron Activation Analysis of Inka and Local Pottery from Northern Chile's Atacama Desert and Late Prehistoric Interregional Interaction in the Southern Andes. Journal of Archaeological Science: Reports 9:481–492.Hunt, A.M.W., and R.J. Speakman, 2015. Portable XRF Analysis of Archaeological Sediments and Ceramics. Journal of Archaeological Science 53:626–638.

Moini, M., A. O'Halloran, A.M. Peters, C.A.M. France, E.P. Vicenzi, T.G. DeWitt, E. Langan, T. Walsh, and R.J. Speakman (2014). Understanding Irregular Shell Formation of Nautilus in Aquaria: Chemical Composition and Structural Analysis. Zoo Biology 33:285–294.

Speakman, R.J. and M.S. Shackley (2013). Silo science and portable XRF in archaeology: A response to Frahm. Journal of Archaeological Science 40:1435–1443.

Speakman, R.J., N.C. Little, D. Creel, M.R. Miller and J.G. Iñañez (2011). Sourcing ceramics with portable XRF spectrometers? A Comparison with INAA using Mimbres pottery from the American Southwest. Journal of Archaeological Science 38:3483–3496.
Courses Regularly Taught: