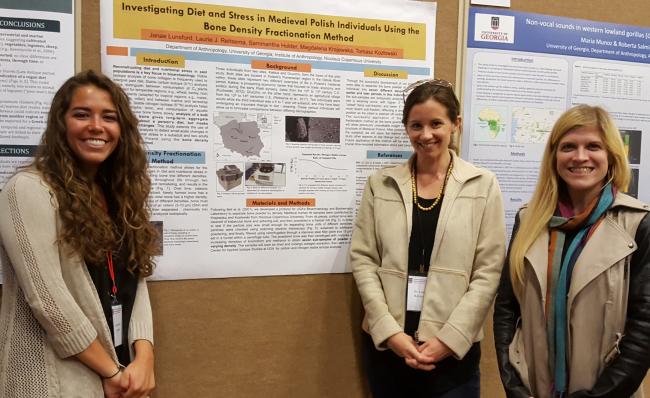 Fourteen students, mentored by anthropology faculty members, presented their original research at the 2017 CURO symposium held at the Classic Center April 3 and 4. The Honors program helms the Creating Undergraduate Research Opportunities (CURO) program each year.
Three undergraduates made oral presentations: CURO Research Assistant Sarah Jane Dillon, mentored by Distinguished Research Professor Peter Brosius, presented her paper, "Tolak Reklamasi: Rejecting Tourist Developments in Bali." CURO Research Assistant Maria Munoz, mentored by Assistant Professor Roberta Salmi, presented her paper, "Non-Vocal Sounds in a Group of Western Lowland Gorillas." Foundation Fellow Abigail West, mentored by faculty member Chris Joseph, presented "The Sapelo Island Coloring Book."
Eleven students presented their research as detailed academic posters and shared information with attendees at the poster session held on Monday, April third. Their names, the titles of their posters, and their faculty mentors are listed below. 
Abstracts for all fourteen research presentations appear in the 2017 CURO Book of Abstracts, attached here as a pdf. It's easiest to go to the index to select the presenter's name then select the second page number listed and do a page number search. You'll have to scroll down a few pages to reach the actual abstract because of the introduction page set up. CURO_2017_Book_of_Abstracts_1.pdf
The photo included here is of Janae Lunsford's poster presentation with her faculty mentor, Laurie Reitsema, and graduate student Samm Holder. 
Poster presenters and faculty mentors:
| | | |
| --- | --- | --- |
| Adwoa Agyepong  | Cemetery Records and The Spanish Flu in Athens, GA | Associate Professor Susan Tanner |
| Prabhjot K Minhas  | Refugee Health and Migration | Associate Professor Susan Tanner |
| Kara Pemberton  | Using Syndemics Theory to Examine the Correlation Between Wealth, Disease Knowledge and Zoonotic Diseases in Panama | Associate Professor Susan Tanner |
| Hannah R. Gilbert  | Fecal Composition and Its Relation to Diet | Assistant Professor Laurie Reitsema |
| Rachel N. Horton  | Diachronic Perspectives on Human Diet Variation in Greek, Roman, and Medieval Albania | Assistant Professor Laurie Reitsema |
| Janae Marie Lunsford  | Investigating Diet and Stress in Medieval Polish Individuals Using the Bone Density Fractionation Method | Assistant Professor Laurie Reitsema |
| Maria Munoz  | Non-Vocal Sounds in a Group of Western Lowland Gorillas | Assistant Professor Roberta Salmi |
| Samantha Keating  | The Evolution of Religion in Africa: A Test of the Big God Hypothesis | Associate Professor Bram Tucker |
| Rose Parham  | Identity, Cosmology, and Subsistence in Madagascar | Associate Professor Bram Tucker |
| Matt Pieper  | Animism and Foraging Economies | Associate Professor Bram Tucker |
| Taylor Alicia Hill  | The Necessity for Ethics in Developing Adaptive Management Strategies for Water Scarcity | Associate Professor Don Nelson |