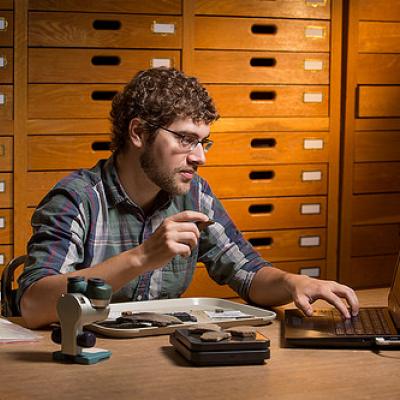 I am a doctoral candidate (ABD) working under the advisement of Dr. Victor Thompson. My research focuses on the Mississippian Period on the Georgia Coast. Through a combination of my methodological specialties in spatial analysis, remote sensing, and Bayesian modeling and my theoretical interests in chronology, demography, population movement, and community physical and political organization, my dissertation research aims to demonstrate and understand the role of migration in the development of coastal socio-ecological systems during the Late Mississippian period.
I have been conducting systematic survey of sites on the Georgia Coast since 2013, with the focus of these efforts at my dissertation field site of Kenan Field on Sapelo Island. My excavation and survey experience on the Georgia Coast stands beside additional work in Kentucky, Florida, and South Carolina.
While at the University of Georgia, I have been involved in public outreach through the development of the UGA Junior Archaeologist's Workbook, a teaching aid aimed at early and mid-level grade school children. I have also represented UGA at the Georgia Department of Natural Resource's annual CoastFest public outreach event. On Sapelo, I have participated in the annual summer "Schoolyard" program, which places area high school Advanced Placement teachers into ongoing field science projects for hands-on research experience. I am also involved in the Graduate/Undergraduate Mentoring Program here in our Department.
Education:
University of Georgia (2012-present)
Ph.D. Candidate
Major Professor: Dr. Victor D. Thompson
Committee Members: Dr. Jennifer Birch and Dr. Stephen Kowalewski
University of Kentucky (2008-2012)
B.A., Anthropology, Magna cum Laude (May 2012)
Minor in Folklore and Mythology
Undergraduate Research Thesis: Petroglyphs in Cave 15HT53, Mammoth Cave National Park, Kentucky: Rock Art and Ritual in Karstic Kentucky
Research Interests:
Archaeology; Demography; Migration; Socio-political Organization; Community Organization; Bayesian Modeling; Radiocarbon; Monumentality and the Built Environment; Islands, Coasts, and Wetlands; Geophysics and Remote Sensing; Landscape Archaeology; Social Theory
Grants:
2016       $25,187. Reverberations of a Vacuum: Effects of the Collapse of a Region on its Neighbors, A Case from the Georgia Coast USA. National Science Foundation, Doctoral Dissertation Research Improvement Awards. Thompson (P.I.) Brandon Ritchison (co-P.I.)  
Selected Publications:
Ritchison, Brandon T.  2017. Exploring a Bayesian Method for Examining the Regional Ceramic Sequence along the Georgia Coast. Southeastern Archaeology.
Speakman, Robert J., Carla S. Hadden, Matthew H. Colvin, Justin Cramb, K.C. Jones, Travis W. Jones, Corbin L. Kling, Isabelle Lulewicz, Katherine G. Napora, Katherine L. Reinberger, Brandon T. Ritchison, Maria Jose Rivera-Araya, April K. Smith, and Victor D. Thompson. 2017. Choosing a Path to the Ancient World in a Modern Market: the Reality of Faculty Jobs in Archaeology. American Antiquity 83(1):1-12
Thompson, Victor D., Jacob Lulewicz, Brandon T. Ritchison, Thomas Pluckhahn, Matthew Colvin, Justin Cramb, Katherine G. Napora. 2017. Plummets, Public Ceremonies, and Interaction Networks during the Woodland Period in Florida. Journal of Anthropological Archaeology 48:193-206.
Reitsema, Laurie J., Tad E. Brown, Carla S. Hadden, Russell B. Cutts, Maran E. Little, and Brandon T. Ritchison. 2015. Provisioning an Urban Economy: Isotopic Perspectives on Landscape Use and Animal Sourcing on the Atlantic Coastal Plain. Southeastern Archaeology 34(3): 237-254