Field School Programs
The anthropology department offers hands-on archaeological field schools each summer in which students gain real-world experience while earning credit hours.
Mississippian Settlement Archaeology • June 2-July 14, 2017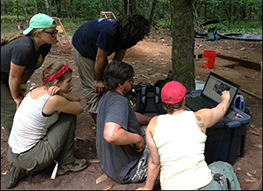 Singer-Moye (9SW2) is a multi-mound Mississippian center located in the Lower Chattahoochee River Valley of southwest Georgia. The site's occupation has been estimated to span ca. A.D. 1100-1450. The site includes eight earthen mounds, two plazas, and extensive habitation areas. Our approach to this project is explicitly multi-scalar. In order to understand large-scale, long-term patterns in human prehistory, we need to understand people's daily lives.
This field school is part of the Singer-Moye Archaeological Settlement History (SMASH) project. Students will be involved in all stages of the research process: defining research questions, collecting and interpreting archaeological data, analyzing artifacts, and reporting on their findings. Students will also prepare posters to be presented at a professional meeting. For more information, please see singermoye.com or contact Dr. Jennifer Birch at jabirch@uga.edu. Applications are available here.
Colonial and Native Worlds
The Colonial and Native Worlds field school, under the direction of Dr. Victor Thompson, gives students the opportunity to work at multiple sites in Georgia and Florida. First, students will travel to Southern Florida to conduct excavations at Mound Key, the capital of the Calusa Kingdom. This more than 100-acre island was constructed entirely by the Calusa in the middle of Estero Bay. Work at Mound Key seeks to understand the colonial entanglements of the contact period and the construction history of this unique monumental site. While in Florida, students will also participate in excavations at the Fort Center site on the western edge of Lake Okeechobee with Ph.D. student Matthew Colvin. Excavations at Fort center aim to uncover the history of construction of the first monuments in Florida, exemplified by the earthen constructions at the site. In June, students will travel to the coast of Georgia to conduct survey and excavations at Kenan Field on Sapelo Island with Ph.D. candidate Brandon Ritchison. Excavations at Kenan Field, a site occupied for the past 4000 years, focus on the Mississippian Period and the coastal response to a large-scale immigration event circa AD 1380. For more information, contact Dr. Victor Thompson at vdthom@uga.edu or see the field school webpage.
2018 Native and Colonial Worlds Information.
Both UGA field schools post site updates, student work, and program information on the Georgia Archaeological Field Schools Facebook page, a collaborative effort between archaeology field schools at different universities throughout Georgia
Study Abroad Programs
Two summer study abroad programs are offered, each interacting with lands in times of cultural transition.
Bali and Beyond • Maymester 2017 May 7-June 3, 2017
The island nation of Indonesia is famous for the richness and diversity of its cultural and natural heritage.  One of Indonesia's best-known islands is Bali, which is most notable for its distinctive brand of Hinduism and its elaboration of ritual and the arts.  Beginning in the 1930s, when an international collection of artists and writers began to make Bali's unique culture known to Western audiences, the tourism industry began to flourish, and this process continues up to the present.  But the development that goes along with tourism has been a mixed blessing.  All over the island and its neighbor, rampant development challenges local communities to maintain the rich cultural and natural heritage that attracts visitors in the first place. In this program, students will learn about Balinese culture through individual experience. Find many more details at the OIE link here.
Surfing and Sustainability: Political Ecology in Costa Rica • July 6-August 3, 2017
Taught by anthropology professor Peter Brosius, Surfing and Sustainability explores the Costa Rican Pacific coast as its people navigate a time of transition. As a magnet for global surf tourism, Costa Rica's Pacific Coast is being rapidly transformed today as communities face the complex challenges of promoting sustainability and conserving nature while catering to increasing demands for development and economic growth. We visit a number of coastal towns and surf destinations to learn how these communities are responding to the changing realities of which they are a part. The course itself is rigorous and includes learning to surf as an experiential component of the experience. Discover more here.