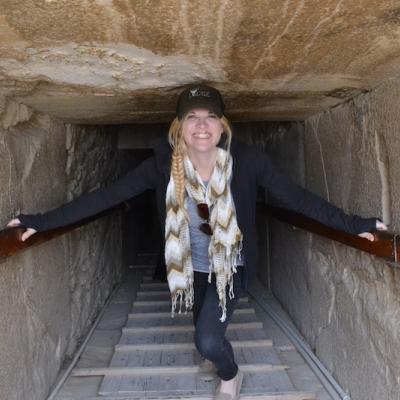 PhD Candidate
Mentor Program Coordinator
I am interested in how social structures and agency interact to shape human biology in the past. My dissertation research integrates practice theory, embodiment, and structural violence to examine how military service produced Napoleonic soldier and civilian bodies. To address the embodiment of miitary rationing and soldier foraging strategies, I reconstruct changes in diet and nutrition over the life course. The primary methodologies I employ to reconstruct diet are stable carbon and nitrogen isotope analysis of bone collagen and carbonate and individual amino acids in bone collagen. 
In addition to my dissertation research, I work as an osteologist with the Dayr al-Barsha Project in Egypt where I examine human skeletal remains from Old Kingdom/1st Intermediate, Middle Kingdom, and Roman period cemeteries. This work focuses on reconstructing the health and lifeways of ancient Egyptians.
Lastly, I am interested in pedagogy and mentorship in the university setting. As part of UGA's Interdisciplinary Certificate in University Teaching, I am working with my advisor, Dr. Laurie Reitsema, on a project that utilizes writing in the disciplines pedagogy to teach undergraduate students about different approaches to bioarchaeology and its potential to contribute to contemporary social issues. We are currently guest editing a special issue of UGA's peer-reviewed undergraduate journal, The Classic Journal. As the Anthropology Graduate Student Organization's (AGSO) Mentor Program Coordinator, I am working with Graduate Coordinator, Dr. Susan Tanner to develop and evaluate a peer mentoring program for first-year graduate students in the Department of Anthropology.
Of note:
2018-2019 The Beverly Hirsch Frank Graduate Fellowship for Women in Science ($2000)
2018 Human Biology Association Student Member Travel Award ($500)
2018 Outstanding Teaching Assistant Award
2018 Hudson Teaching Award
2017-2018 Future Faculty Fellowship Program
2017 The Graduate School Dean's Award ($3000)
2017 Melissa Hague Field Study Award ($500)
2016 Title VIII Program for Research and Training in Eastern Europe and Eurasia Fellowship in the Lithuanian Language ($5300)
Education

Education:

2013, Master of Arts, University of Central Florida, Department of Anthropology

2010, Bachelor of Arts, University of Pittsburgh, Department of Anthropology, Summa cum laude

2010, Certificate: Conceptual Foundations of Medicine, University of Pittsburgh, Department of History and Philosophy of Science
Research

Research Interests:

Bioarchaeology; stable isotope analysis; diet reconstruction; human osteology; paleopathology; nutritional stress; Europe; Egypt
Selected Publications

Selected Publications:

Reitsema, LJ, and Holder S. (In press). Stable Isotope Analysis and the Study of Human Stress, Disease, and Nutrition. Bioarchaeology International.

Holder S, Dupras TL, Jankauskas R, Williams LJ, and J. Schultz. (2017). Reconstructing Diet in Napoleon's Grand Army using Stable Carbon and Nitrogen Isotope Analysis. American Journal of Physical Anthropology. DOI: 10.1002/ajpa.23184
Grants

Grants:

2018 Summer Research Travel Grant for Doctoral Students ($2000)

2017 Innovative and Interdisciplinary Research Grants for Doctoral Students ($2500)

2017 Sigma Xi Grants-in-Aid of Research ($1000)