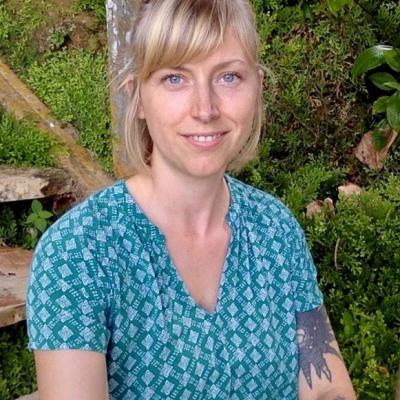 PhD Student
Master of Arts
Education

Education:

M.A. Hispanic Literatures and Cultures, University of Arizona. 2016.

B.A. Spanish, Portland State University. 2013.

B.A. Interdisciplinary Arts & Letters, Prescott College. 2005.

 

_
Research

Research Interests:

I am most broadly interested in the utilization of multisensory and multispecies ethnography to explore how spiritual, aesthetic, and affective aspects of human-nature relationality and ecological knowledge are deployed by landscape-based communities in the politics of environmental sovereignty. More specifically, my dissertation research engages with the political ontology of South America and investigates the indigenous cosmopolitics of community conservation in the Ecuadorean Amazon.

 

Current projects:

The Aesthetics of Traditional Ecological Knowledge

An ongoing filmmaking project which utilizes visual anthropology, multispecies representation, and sensory ethnography to train attention on the biotic and abiotic minutiae of dwelling in the Ecuadorian Amazon. Based on preliminary fieldwork, the camera travels alongside Kichwa, Achuar, and Waorani indigenous people as they garden, forage, tell stories, sing songs, and navigate forest paths and riverways. But instead of positioning the human as the central agent in human-nature relationality, the focus is on the colors, textures, movements, shapes, and sounds which animate a mesh of interconnected lifeworlds and configure an aesthetic of cultural and ecological resilience. A rough cut prototype can be seen here: https://youtu.be/GD0qNF8l77U

 

Amazonian Entomophagy in the Anthropocene

Although Amazonian anthropology has provided indisputable evidence of the long-standing importance of insects to indigenous ecological knowledge, in recent decades the local tradition of entomophagy has not received the attention it deserves, despite increased scholarship investigating conservation, food sovereignty, and sustainable development. Addressing this oversight becomes even more crucial in a place where deforestation and contamination threaten forest resources and where ecotourism is transforming the cultivation of palm weevil grubs into a market commodity. Based on preliminary doctoral research in the Ecuadorian Amazon, this project seeks to analyze links between entomophagy, sustainable livelihoods, and cultural resilience. I ask what is the state of this practice today? Is it sustainable within a changing biological and economic landscape? And how is eating insects deployed as a political strategy to affirm and transmit traditional ecological knowledge?