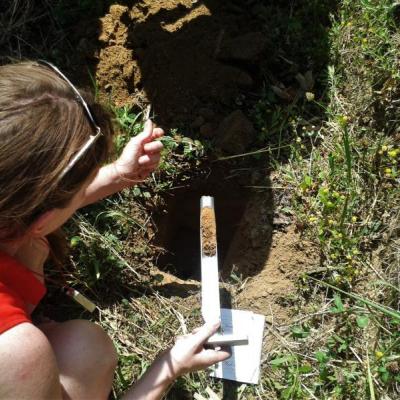 Doctoral Candidate
Mellon-CES Dissertation Completion Fellow 2018-2019
Fulbright Study Award Grantee (Hungary) 2016-2017
Contact Info
Office:
Baldwin Hall, Ethnoecology and Biodiversity Lab
Office Hours:
Writing off-campus/in field
My primary work is in the political ecology of food and agriculture in Postsocialist Europe with particular interest in policy narratives, science and technology studies, food and intellectual property law, historical ecology, and sensuous ethnography.
My current dissertation research involves tracing the multi-scalar manifestations of the European Union's regulation of place-based, or terroir foods, which are grown in legally protected areas and protected worldwide as intellectual property (e.g., Champagne, Vidalia Onions.) This took me to the Tokaj region of Hungary, home of the oldest classified vineyards (and second oldest protected region of origin). Understanding these policies as historical and cultural artifacts that draw from both scientific and local/experiential/sensory knowledges, I interface legal narratives of place-based, unique tastes with narratives of producers to explore how the "taste of place" is [re]created from the ground up, in short: What can terroir-crafting tell us about human-ecological relationships? What does it tell us about taste and the role of affect in biodiversity conservation? What can terroir policies tell us about the political life of the senses?
More broadly, I am interested in the anthropology of the senses, science and technology studies, alternative food systems, and historical ecology. I have always been compelled by the ways in which food—as both social and ecological material—can have powerfully subversive qualities: as assertion of identity, as a weapon, or as a historical, cultural, and geographical claim. Following this, I am intrigued by the framing of taste (the affective/experiential side of food) as a political-ecological act.
I have also recently completed an MS in Crop and Soil sciences, for which I completed additional fieldwork in Tokaj, Hungary that included participant-led soil sampling. I then put soils data in conversation with interview/discursive data to present terroir and its signifier, minerality, as exemplary of the co-production (Jasanoff 2004) of the social and scientific worlds (Brawner et al., in review April 2018).
Before my PhD studies, I studied music (voice) and taught K-8 English and music in Hungary, and completed an MA in Sociology and Social Anthropology at Central European University in Budapest (2011). I am always seeking to merge the creative and the academic in new ways.
MAGYAR
Üdvözlet az én weboldalon!
June Brawner vagyok, utolsó éves doktori hallgató vagyok.
A következő tanévre ('18-'19) elnyertem a Mellon-Council for European Studies ösztöndíját, mely a disszertációm megírásához nyújt segítséget.
A doktori projekt 2015-ben kezdtem el. Egy interdiszciplináris és néprajzi projektről van szó, mely a Tokaji borvidékre és Budapestre fókuszál. A 2016-2017-es tanévben a Fulbright Alapítvány segítségével kutathattam Magyarországon. A projekt részeként sok interjút készítettem borászokkal és borszakértőkkel, és sok kóstolón vettem részt, amelyek során egyszerre voltam jelen megfigyelőként és résztvevőként.
Ezen kívül egy másik projektet is véghezvittem 2015-ben, amelyhez elemeztem az összegyűjtött talajmintákat, és társszerzőként írtam egy cikket a talajtudomány szerepéről a terroir és a mineralitás koncepciójának kialakításában.
A disszertációm egyik fejezete arról szól, hogy az idők során hogyan vált védetté a Tokaj-borvidék, hogyan és miért változtak a szabályok (például a földrajzi terület határait illetően). Mi ebben a tudomány szerepe, mi a mindennapi tapasztalat szerepe? Egyik disszertációs fejezet arról szól, hogy a Tokaj borvidék védett, múltkor napjainkig—hogy változott a szabály, a helyi 'borders', stb., és miért.
A következő fejezet egyszerre szól az autentikusság történetéről és a terroir vagy dűlőmitológia koncepcióiról, és azt a kérdést feszegeti, hogy mi teszi egyedülállóvá a tokaji borokat. Írok arról, hogy a bor nemcsak egy emberi/humán projekt, hanem egy együttműködés a "természet" és a "társadalom" között— és ez a kettő nem különíthető el (élesen) egymástól. Nemes rothadásból marketingre, sok emberi és nem emberi "résztvevők" teremt a terroir termék.
A következő kérdés az íz. A phyloxéra előtti tokaji borok nem ugyanazok, mint a mai tokaji borok. Változott a termelés módja, és változtak az ízek —a kommunizmus után is! Jelenleg, az édes bor nem olyan híres, mint a száraz terroir bor. De a történelem miatt a Tokaji terroir már nem olyan híres mint a Tokaji édes bor. Mit jelent az, amit Jung (2014) kérdezett a bolgár borról, azt mondva róla, hogy "ismeretlen terroir" bor?
Végül, megvitatok új módja gondolni a politikus-ökológia, vagy "political ecology" (hogy az ember és a politikák, törvény, történelem összejött az ökológiával és a természetes termékben): egy 'political ecology of taste' (k.b. 'íz politikus-ökológiája').
Nagyon köszönöm szépen a sok Tokaji borasz, bor profi, és kedves lakói akivel, az ők segłtségükkel, a PhD projektem be tudom fejezni!
Köszönöm is Anna Veres, akivel tanulok magyarul 2014-tól.
Of note:
Honors & Awards
Outstanding Alumna 2017, Kennesaw State University
3MT/Three Minute Thesis, Runner-Up 2016
Outstanding Graduate Teaching Assistant Award, The University of Georgia, Spring 2014
Professional Service & Positions Held
Research Assistant under Dr. Jennifer Jo Thompson (CRSS), 2014-2016
Director, 16th Annual Interdisciplinary Research Conference, The University of Georgia, 2016
Reviewer, Graduate Journal of Food Studies, Journal of Political Ecology
Vice President, UGA Graduate Student Association, 2015-2016
Teaching Assistant, Department of Anthropology, 2013-2014
Invited participant, International Interdisciplinary Summer School: Political Ecology with Bruno Latour Forum Scientarium, Tübingen, Germany, Summer 2017
Invited participant, Agriculture and Environment Society Dissertation Proposal Workshop at the Annual Meeting for the American Anthropological Association, Denver, USA, November 2015
Affiliations
Society for Applied Anthropology
American Anthropological Association
Southeastern Division of the Association of American Geographers
Food Studies Research Network
European Association for the Study of Science and Technology (EASST)
Education:
MS, Crop and Soil Sciences | The University of Georgia | Athens, GA, USA | 2018
International Interdisciplinary Summer School: Political Ecology with Bruno Latour | Forum Scientarium | Tübingen, Germany | Summer 2017
MA, Sociology and Social Anthropology | Central European University | Budapest, Hungary, 2011
BS, Anthropology | Kennesaw State University | Kennesaw, Georgia, USA | 2010
BA, Music | Kennesaw State University | Kennesaw, Georgia, USA | 2009
Research

Research Interests:

In addition to my MS and PhD work above, I have also worked as a Research Assistant on another project:

Investigating Nutrition Director's experiences with Farm to School programming

Graduate Research Assistantship, 2014-2016

This project is directed by PI Dr. Jennifer Jo Thompson and aims to develop knowledge around motivation, challenges, successes and strategies faced by Nutrition Directors, key decision-makers whose participation is crucial to the success and sustainability of Farm to School (FTS) programs.

To accomplish these aims, we conducted semi-structured interviews with Nutrition Directors across the state of Georgia. Additionally, we have conducted/are conducting participant observation at Northeast Georgia FTS leadership and enrichment activities to allow for complementary identification of challenges, successes, and strategies, as well as communication, leadership roles and other network dynamics that influence the success and sustainability of FTS programs. To investigate the role of social ties and social support for Nutrition Directors in FTS implementation and persistence, we also collect network participation data at Northeast Georgia FTS leadership and enrichment activities. The goal of this research is to promote sustainable, equitable Farm to School programming.

 
Selected Publications

Selected Publications:

Brawner, A. J. 2015. Permaculture in the margins: realizing Central European regeneration. Journal of Political Ecology 22:429-444.

Thompson, J. J, A. J. Brawner, and U. Kaila. 2016. "You can't manage with your heart": Food safety and risk in Farm to School. Agriculture and Human Values doi:10.1007/s10460-016-9766-4.

Brawner, A. J. Forthcoming 2018. "You can taste it in the wine": Terroir and the embodiment of place. In Carlnita Green, ed. Foodscapes: Food, Space, and Place in a Global World.

Brawner, A. J., A. Thompson, M. Cabrera, and J. J. Thompson. Making Minerality Matter: Soil Science in the Distinction of Post-Socialist Terroir Wines. In review April 2018.
Grants

Grants:

Council for European Studies Mellon Dissertation Completion Fellowship 2018-2019
Global Programs International Travel Award (UGA), Summer 2018 
Fulbright Study Award (Hungary) 2016-2017
Innovative and Interdisciplinary Research Grant (UGA), Summer 2015
Melissa Hague Pre-Dissertation Research Grant (UGA), Summer 2014