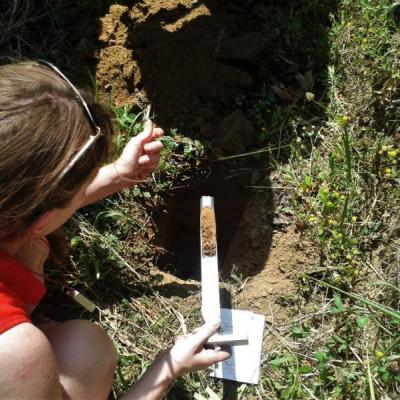 Contact Info
Office:
Baldwin Hall, Ethnoecology and Biodiversity Lab
Office Hours:
Currently in field, Fulbright Hungary 2016-2017
I study the political ecology of food and agriculture in Postsocialist Europe with particular interest in policy narratives, science and technology studies, food and intellectual property law, historical ecology, and sensuous ethnography.
My current dissertation research involves tracing the multi-scalar manifestations of the European Union's regulation of place-based, or terroir foods, which are grown in legally protected areas and protected worldwide as intellectual property (e.g., Champagne, Vidalia Onions.) Understanding these policies as historical and cultural artifacts that draw from both scientific and local/experiential/sensory knowledges, I interface legal narratives of place-based, unique tastes with narratives on the ground: how is terroir, the "taste of place", interpreted and legitimized through policy, and with what effect in postsocialist wine regions? How do place-based-tastes conflate producer, place, and product in the battle for distinction? Further, how is this leading producers to, in the quest for unique tastes, make decisions that impact agrobiodiversity?
More broadly, I am interested in the anthropology of the senses, science and technology studies, alternative food systems, and historical ecology. I have always been compelled by the ways in which food—as both social and ecological material—can have powerfully subversive qualities: as assertion of identity, as a weapon, or as a historical, cultural, and geographical claim.
Education:
International Interdisciplinary Summer School: Political Ecology with Bruno Latour | Forum Scientarium | Tübingen, Germany | Summer 2017
MS, Crop and Soil Sciences | University of Georgia | Athens, GA, USA | Expected 2018
MA, Sociology and Social Anthropology | Central European University | Budapest, Hungary, 2011
BS, Anthropology | Kennesaw State University | Kennesaw, Georgia, USA | 2010
BA, Music | Kennesaw State University | Kennesaw, Georgia, USA | 2009
Of note:
Positions Held & Honors
Director, 16th Annual Interdisciplinary Research Conference, 2016
Invited participant, Agriculture and Environment Society Dissertation Proposal Workshop at the Annual Meeting for the American Anthropological Association, Denver, CO, 2015
Reviewer, Graduate Journal of Food Studies, 2015-present
Vice President, UGA Graduate Student Association, 2015-2016
Coordinator, The Jewelweed Fund, 2014-present
Central and Eastern Web for Biodiversity, Budapest, Hungary: Agriculture and Rural Development Intern, Summer 2014
Outstanding Graduate Teaching Assistant Award, Spring 2014
Affiliations
Society for Applied Anthropology
American Anthropological Association
Southeastern Division of the Association of American Geographers
Food Studies Research Network
Research

Research Interests:

Consuming place and policy in Hungarian wine regions

Dissertation research project, September 2016-present, with support from the Fulbright Study Award 2016-2017

My dissertation work intersects policy and practice to explore the concept of terroir – the unique assemblage of cultural, geophysical, and ecological conditions that define a place. Terroir has been described simultaneously as both a social and scientific mechanism through which food products are made authentic, edible reflections of their ecologies. Today, an assortment of recent policy frameworks have used terroir to protect and label the origins of many international foods. Although a variety of physical and climatic factors influence food products at their origins, equally important are the culturally-informed elements of terroir, including identity, taste, local and experiential knowledge, and other sensory facets.

GI policy, as a discursive framing device, has recently been questioned for its legal, ecological, and ethical soundness. Practically, GIs may stifle innovation in a climatically and politically dynamic world, requiring producers to adhere to arbitrarily 'traditional' methods, creating a living museum of sorts (Trubek 2008). Fundamentally, GIs impart terroir-based rights to produce within a given geographical area, a privilege which may result in a perceived natural monopoly on quality that is actually the result of historical and cultural contingencies.  I aim to understand how 'hegemonies of taste' (Jung 2014) are reproduced through individual, local, and national political framing of social-ecological origins of quality, and how the legitimization of food authenticity and superiority appeals to those origins.

I explore these ideas using a case study in Hungary, where winegrape varieties include the second oldest geographically-defined wine in the world (Tokaji). Hungarian wines like Tokaji have seen a renaissance since the 1990s, though much of the western world seems to have long-forgotten the taste of this once famous "Wine of Kings" (Louis XV), a sensory amnesia that has resulted in low name-recognition outside of Hungary. Intersecting sensuous ethnography, mezzo-level discourse, and policy narrative analysis, I hope to add some nuance to the terroir debate, and ultimately contribute to creating more effective and balanced agrifood policy in the EU: If the success of terroir products depends on a location's preexisting, international reputation for quality (Josling 2006), can a judgement of taste be distinct from a judgement of sociocultural origins?

 

Translating terroir: Science, place, policy, and power within a Hungarian wine region

MS Crop and Soil Science thesis project, 2015-2016, with support from the Innovative and Interdisciplinary Research Grant, The Graduate School, UGA

My MS thesis work focuses on the power, and political construction of, terroir concepts in Geographical Indications (GIs). GIs regulate foods and crops as intellectual and biological property, geographically fixed, though limited empirical data exist to support a biophysical link between place, plant, and taste quality. In spite of this, through food labels of origin, these intangible aspects of a particular place-based food are standardized, giving the elusive terroir a legal expression denoting quality (Josling 2006).

 

Investigating Nutrition Director's experiences with Farm to School programming

Graduate Research Assistantship, 2014-2016

This project is directed by PI Dr. Jennifer Jo Thompson and aims to develop knowledge around motivation, challenges, successes and strategies faced by Nutrition Directors, key decision-makers whose participation is crucial to the success and sustainability of Farm to School (FTS) programs.

To accomplish these aims, we conducted semi-structured interviews with Nutrition Directors across the state of Georgia. Additionally, we have conducted/are conducting participant observation at Northeast Georgia FTS leadership and enrichment activities to allow for complementary identification of challenges, successes, and strategies, as well as communication, leadership roles and other network dynamics that influence the success and sustainability of FTS programs. To investigate the role of social ties and social support for Nutrition Directors in FTS implementation and persistence, we also collect network participation data at Northeast Georgia FTS leadership and enrichment activities. The goal of this research is to promote sustainable, equitable Farm to School programming.

 

Permaculture: Resilience from the Margins

MA thesis project, 2010-2011, with support from the Central European University Travel Award

This ethnographic study involved several weeks at a permaculture site in the Balkan Mountains of rural Bulgaria. The research aim was to understand how permaculture practitioners, as 'students of nature', found old roots in supposedly new methods for subsistence farming. Through merging social and ecological systems, permaculture brings an ethical context to gardening that frames practice in terms of inclusion, regeneration, and sustainability.

 
Selected Publications

Selected Publications:

Brawner, A. J. 2015. Permaculture in the margins: realizing Central European regeneration. Journal of Political Ecology 22:429-444.

Thompson, J. J, A. J. Brawner, and U. Kaila. 2016. "You can't manage with your heart": Food safety and risk in Farm to School. Agriculture and Human Values doi:10.1007/s10460-016-9766-4.

Brawner, A. J. Forthcoming 2017. "You can taste it in the wine": Terroir and the embodiment of place. In Carlnita Green, ed. Foodscapes: Food, Space, and Place in a Global World.

 
Grants:
Fulbright Study Award, Hungary, 2016-2017
Innovative and Interdisciplinary Research Grant for predissertation travel and research, Summer 2015
Melissa Hague Award for predissertation travel and research, Summer 2014
Central European University Travel Award for MA Fieldwork, Spring 2011