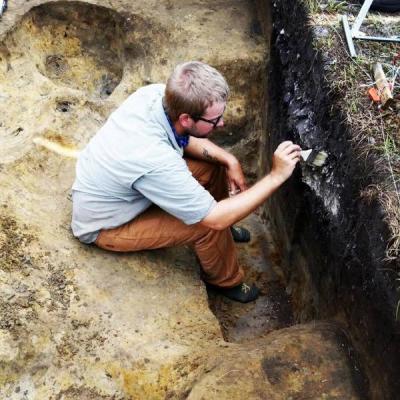 Education:
2012   B.A. Anthropology (Minor: Cultural Geography), Arizona State University
Of note:
2016  National Science Foundation Doctoral Dissertation Research Improvement Grant, $28,590
2016  Innovative and Interdisciplinary Research Grant, UGA Graduate School, $1,000
2016  Fred Plog Memorial Fellowship, Society for American Archaeology, $1,000
2015  Student Paper Competition Winner, Southeastern Archaeological Conference
2015  Norman Herz Small Grant, UGA Center for Archaeological Sciences
2014  National Science Foundation Graduate Research Fellowship, Honorable Mention
Research

Research Interests:

Archaeology and Ethnohistory of Eastern North America
Social Networks
Political Systems and Collective Action
Regional Archaeology
Time and Temporality
Bayesian Chronological Modelling
Archaeological Theory
Archaeological Geophysics
Selected Publications

Selected Publications:

Birch, Jennifer, Jacob Lulewicz, and Abigail Rowe
2016   A Comparative Analysis of the Late Woodland-Early Mississippian Settlement Landscape in Northern Georgia. Southeastern Archaeology 35(1).

Birch, Jennifer and Jacob Lulewicz
2015   Archaeological and Geophysical Investigations of Raccoon Ridge, a Transitional Late Woodland-Early Mississippian Village in the Georgia Piedmont. Early Georgia 42(2):89-103.