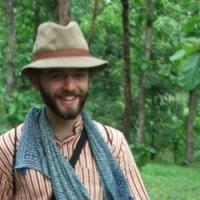 PhD Candidate, Department of Anthropology, University of Georgia
External PhD Scholar, Wildlife Institute of India, Dehradun, Uttarakhand
About My Research
My research explores how people living adjacent to two tiger reserves in central India relate narratives of human-wildlife interactions to their beliefs about the legitimacy of conservation. That is, I am looking at how people talk about different encounters with wildlife, the different contexts in which they do so, and the extent to which these narratives are related to beliefs about accepting and complying with conservation regulations. This research is important because it draws on recent work in multispecies ethnography, which emphasizes how things become what they are through their relationships with other things, to advance scholarship on moral economies and the politics of translation. The methods I am using include Q Methodology, semantic network analysis, geographic information systems, and event ethnography. Through several partnerships with Indian organizations, I also hope that this research will help to mitigate human-wildlife conflicts and enhance the legitimacy of conservation practice.
About Myself
I was born in Bellingham, WA and moved to Northfield, MN to attend Carleton College. In between struggling with ancient Greek, playing broomball, cooking, and knitting, I discovered sociology and anthropology. I also traveled to India for the first time and ended up in what would become my field site, Melghat Tiger Reserve. There, I became fascinated with issues of conservation, governance, and legitimacy, and returned to Melghat Tiger Reserve to complete research for my undergraduate honors thesis. After a year of service as an AmeriCorps volunteer working with under-served and mostly undocumented students at a local high school, I enrolled at The University of Georgia to continue my research in India. Now a PhD Candidate in the middle of my fieldwork, I look forward to graduating and finding new avenues, either in academia or beyond, to further pursue my interests in human-wildlife interactions and legitimacy, while also leaving a little time for more cooking and knitting.
Education:
The University of Georgia, Athens, GA
2013 - Present
Ph.D. Expected, Department of Anthropology
Graduate Certificate, Conservation Ecology and Sustainable Development
Carleton College, Northfield, MN
2008 - 2012
B.A. Sociology and Anthropology, magna cum laude
Certificate of Advanced Study, Ancient Greek
Advisor: Dr. Meera Sehgal
Research Interests:
My broader research interests include environmental governance, political ecology, ecology of fear, conservation and development, and large carnivore conservation.
Grants:
2015, National Science Foundation Graduate Research Fellowship ($102,000)
2014, Foreign Language and Area Studies Fellowship ($7,200)
2013, Segal AmeriCorps Education Award ($5,500)
2011, Class of 1963 Independent Research Fellowship, Carleton College ($4,000)
Selected Publications:
Read, Daniel J. (2016) Legitimacy, Access, and the Gridlock of Tiger Conservation: Lessons from Melghat and the History of Central India. Theme issue, "A Landscape Approach to Conservation and Development in the Central Indian Highlands," Regional Environmental Change 16(S1):S141-151. doi: 10.1007/s10113015-0780-7