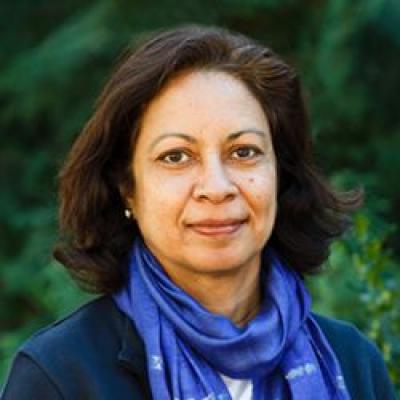 Part-time Assistant Professor
Education
Ph.D. Anthropology, University of Rochester 1994
Expertise & Interests
Political ecology of groundwater
Popular culture and identity politics among second-generation South Asians in the Diaspora
Sacred space and religious fundamentalism in South Asia
Impact of tourism on third-world destinations
Pilgrimages
Sacred groves
Research Projects
My current interdisciplinary research focuses on the groundwater conservation and management in Pushkar, India. I am working with colleagues in geohydrology and engineering to examine the implementation of IWRM (Integrated Water Resources Management) there.
Selected Publications
Joseph, Chris A. 2013. Towards community-based management of water resources: A critical ethnography of lake and groundwater conservation in Pushkar, India. In Water Co-management. Velma I Grover and Gail Krantzberg, eds. Pp. 111-134. New Hampshire: Science Publishers.
Kavoori, A. & C. A. Joseph 2011. Bollyculture: Ethnography of culture, identity and performance. Global Media and Communication.7(1): 7-32.
Joseph, C. A., and Anandam Kavoori. 2007. "Colonial discourses and the writings of Katherine Mayo." American Journalism. 24(3): 55-84.
Joseph, C.A. 2007. "Hindu nationalism, community rhetoric and the impact of tourism: The "divine dilemma" of Pushkar, Rajasthan." In Carol E. Henderson and Maxine Weisgrau, eds. Raj Rhapsodies: Tourism, Heritage and the Seduction of History. Hampshire, UK: Ashgate Publishing Limited.